Regional Anchor Organizations (hospitals, universities, museums, libraries, utilities, etc.) are central to any community's economy.  You're the leaders that help communities tap into their own power to build a more democratic, equitable and sustainable future. We're rooting for you to be successful — whether you hire us or not. However, we can help you win. We have a system that brings uniquely targeted creative to organizations like yours, and more important, we can help position your business as a Lower True Cost brand.
Lower True Cost Positioning is about increasing your sales and increasing the value of your brand in the minds of the 75 million millennials in the United States, as well as a lot of gen xers and boomers.
As a regional anchor organization, you already possess lower true cost traits. You're employees are likely to live in the  community in which you operate, you're NOT likely to move, and you're likely to care about the community and region as much as you do about the bottom line. And you're not alone. Lots of Millennials, Gen-Xers and Baby Boomers feel the same way and are willing to go out of their way to, and even make it a habit to, support sustainable regional anchor organizations..
Interest and demand for "lower true cost" products and services  is already strong and will only grow in the coming years. Does "lower true cost" matter to your customers? Have you considered the positioning possibilities? Are you ready? Or have you fallen behind? Find out. Take this FREE "Quick Audit."
[It's private. We aren't tracking the scores, but you can.]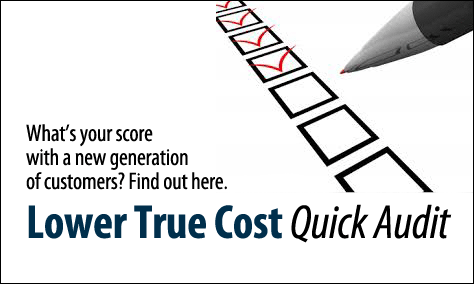 If your Lower True Cost audit score is 50% or higher, it's really time for you to get started with Lower True Cost Positioning and Brand Communications.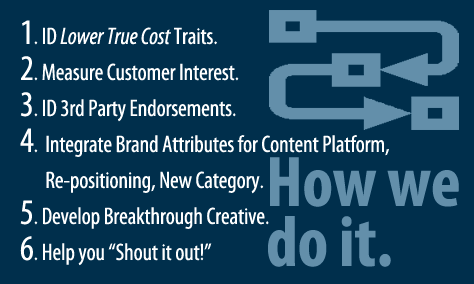 ACT NOW, YOUR COMPETITORS ARE. WRITE US TODAY.
Write us using the form in the left column of this page to set up a phone call or an e-mail chat. You'll be surprised at how inexpensive the first steps to Lower True Cost Positioning and Brand Communication are.