The first thing we do when working with a new Lower True Cost client is to say, "SHOW ME." After all renga communications has its roots in the heartland state of Missouri, where we believe in backing up what we say. We're going to ask you to "show us" how you are a Lower True Cost Business, and then we'll show you how to use that status as a marketable difference, a USP (unique selling proposition/promise) and a positioning tool. We'll help you incorporate third-party endorsements into a brand story and then distribute that brand story via unique connection strategies.
So, let's start with a "lower true cost" quick audit for True Cost Businesses: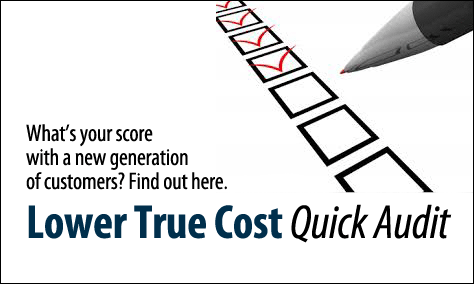 This is a quick audit to determine if your brand or enterprise might have business traits that are "lower true cost" marketable differences, i.e., unique selling points that could position your brand as top-of-mind, leader-of-category, for citizens who are shopping for more than price and convenience, for citizens who are shopping for products and services that have a "lower true cost" to their health, to the environment and to society. Interest and demand for "lower true cost" products and services is already strong, especially with Millennials, and will only grow in the coming years. Are you ready? Find out. Take the audit.
If your Lower True Cost audit score is 75% or higher, let us know (see the form on this page), We do a couple free Lower True Cost Positioning analyses per month.